Description
Introduction
Commodore VIC 20: A Visual History is a book about the computer that made Commodore enter the home market, with all its early peripherals. The VIC 20 was the first colour home computer to cost less than $300, the first to sell one million units, the first to have a modem for under $100, and the first approach to personal computing for a whole generation.
The book, with a foreword by "VIC Czar" Michael Tomczyk, features a few contributions by Tomczyk and other people that contributed to the launch of the VIC 20: the VIC Commandos Andy Finkel, Neil Harris, Eric Cotton and Sue Mittnacht, and Andrew Colin – the author of the successful "An introduction to BASIC" series.
Commodore VIC 20: A Visual History has been funded by a Kickstarter campaign that ended on 29 June 2016.
Language: English
Pages: 256 (245 pages of actual content)
ISBN: 9788894222821
Hardware
The first half of the book shows all the VIC models and revisions, from the Japanese VIC 1001 to the cost-reduced VIC 20 sold worldwide; there are pictures of all the peripherals that Commodore released for this computer such as drives, printers, the VICmodem, expansions, joysticks and paddles.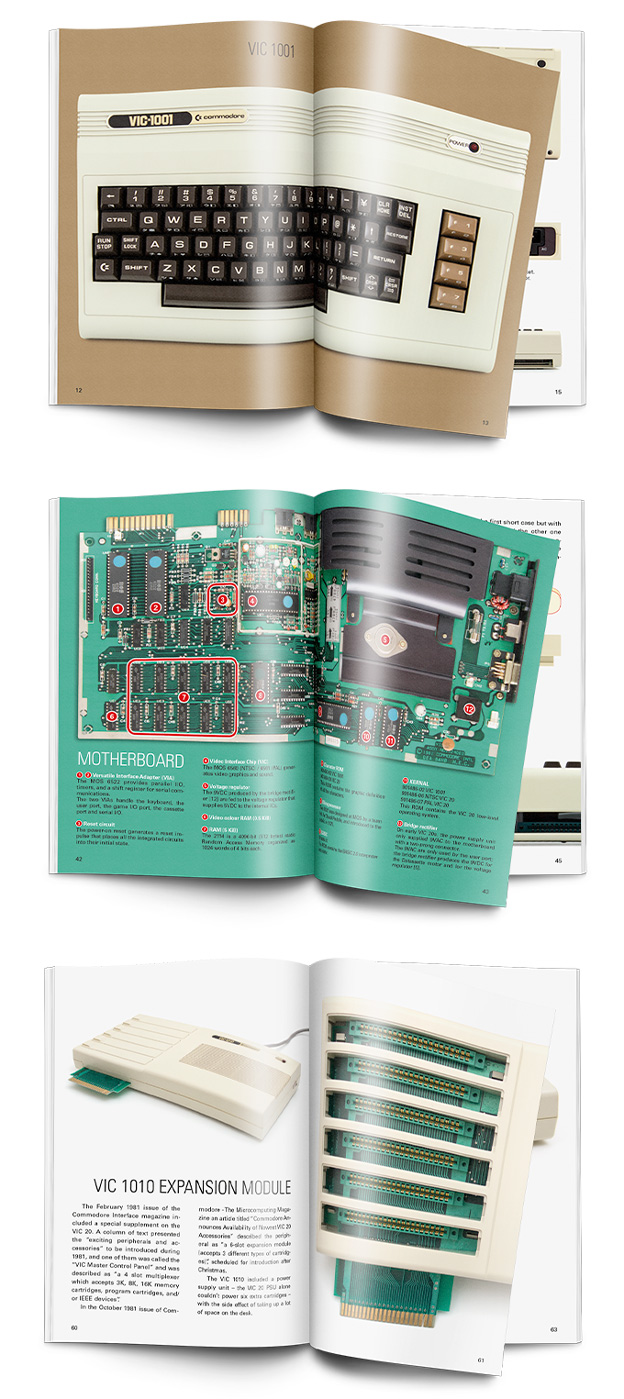 Software
The second half of the book presents all the Commodore games on cartridge, with cover scans, descriptions and screenshots.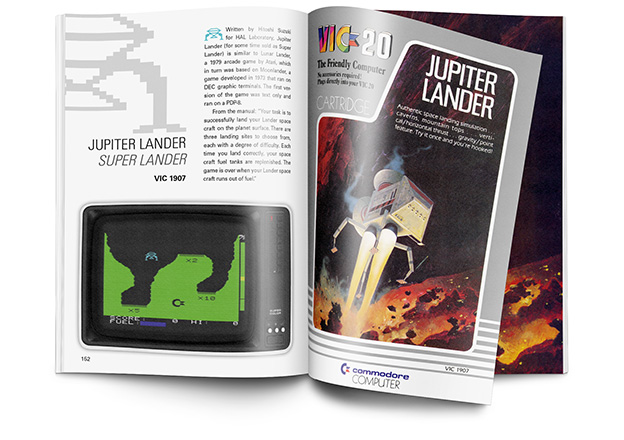 A few games feature a double page image, with all the text patiently removed in Photoshop to reveal the beauty of the original illustration.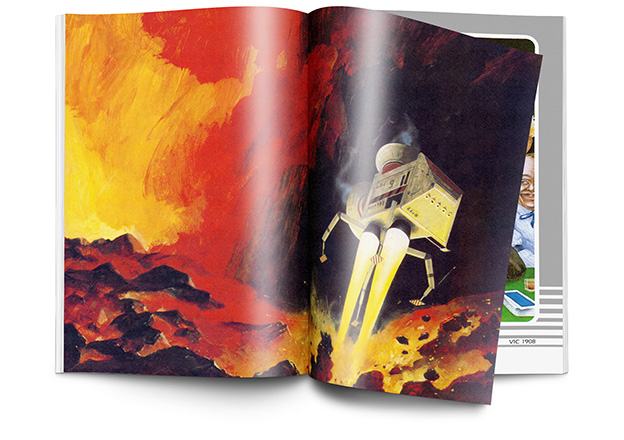 The scans have been professionally color corrected to remove the ink fading and the yellowing of the cardboard (all the games are more than 30 years old); every scratch has been removed to present the covers in their original splendour.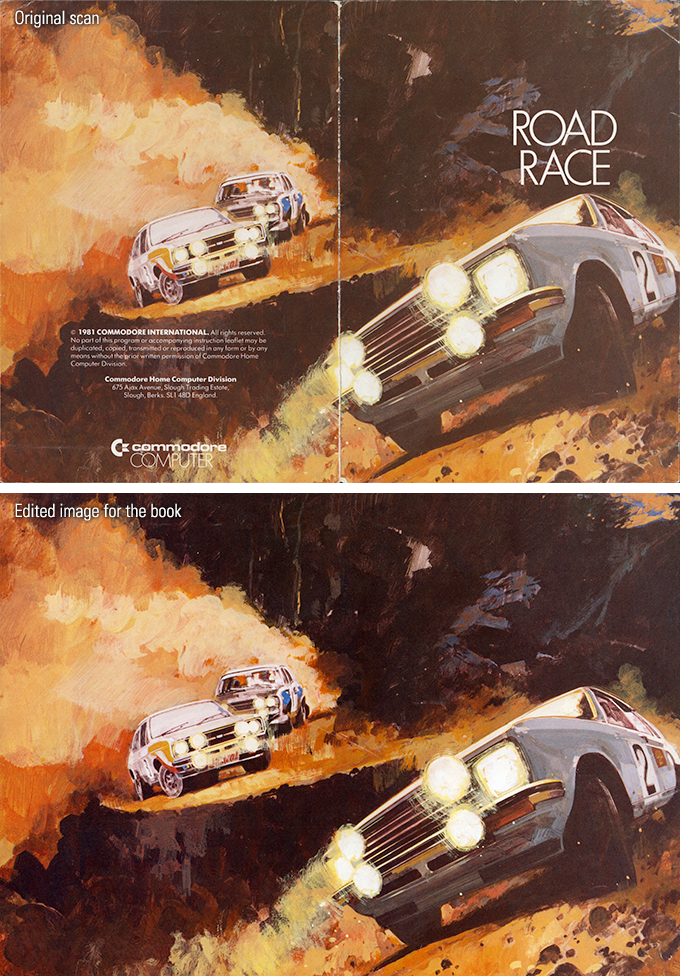 Contents
Foreword by Michael Tomczyk
Introduction
The Genesis of the VIC 20
VIC Commandos (memories from Andy Finkel, Neil Harris and Sue Mittnacht)
The VICs
VIC 1001
Early NTSC VIC 20
Early PAL VIC 20
Cost reduced VIC 20
Motherboard
Cases
Keyboards: VIC 1001, PET Style, Eurostile, Cost Reduced
VIC 1010 Expansion Module
VIC 1020 Expansion Chassis
VIC 1515 Printer
VIC 1525 Printer
VIC 1540 Floppy drive
C2N Cassette Unit
C2N Datasette Unit Model 1530
VICModem
Developing the VICModem, by Michael Tomczyk
IEEE-488 Interface
RS232C Interface
Paddles and Joysticks
The User's Manual
Programmer's Reference Guide
An Introduction to BASIC
Teaching to program, by Professor Andrew Colin
Advertising and Commercials
The VIC 20, Captain Kirk and me, by Eric Cotton
Cartridges
The Cartridge Development System, by Andy Finkel
Super Expander
Programmer's Aid
Machine Code Monitor / VICMON
3K / 8K /16K RAM
VIC Avenger
Star Battle / Galaxian
Rally-X
Superslot
Jelly Monsters / Pacman
Super Alien
Jupiter Lander / Super Lander
Draw Poker
Road Race / Midnight Drive
Radar Rat Race
The Sky is Falling
Mole Attack
Raid on Fort Knox
Converting Scott Adams' Adventures on the VIC 20, by Andy Finkel
Adventureland
Pirate's Cove
Mission Impossible Adventure / Atomic Mission
The Count
Voodoo Castle
Sargon II Chess
Pinball
Super Smash
Cosmic Cruncher
Gorf and Omega Race, by Andy Finkel
Gorf
Omega Race
Money Wars
Menagerie
Cosmic Jailbreak
Home Babysitter
Personal Finance
Visible Solar System
Clowns
Garden Wars
Speed / Bingo Math
Commodore Artist
Sea Wolf
Tooth Invaders
Star Post
Number Nabber / Shape Grabber
Cassette 6 Packs
Games and Recreation
Home Utility
Math Improvement
Sampler
What people say about the book
What I especially love is your attention to detail in the layout. All the box scans are perfectly aligned along with the text and the screenshots. Not one thing is even a millimeter out of place.
J. C., Kickstarter backer
Holy cow, this is awesome.
E. P., Kickstarter backer
I thoroughly enjoyed the book. Not so in depth as to become too technical but no so light as to lose interest. Pitched just right and a very interesting read.
M. D., Kickstarter backer
Got my copy and couldn't put it down. Great quality images and print. A retro classic book for a classic retro computer. Congratulations on a fantastic job.
S. P., Kickstarter backer
Everything is even more amazing than I had imagined. I am not only speaking about the overall quality of the material. It really shines from concept to realization.
L. P., Kickstarter backer
I must say, for me it is the most interesting book about 8-bits in the last months (I am regular 8-bit books backer on Kickstarter).
P. A., Kickstarter backer
For me this is the best experience had with crowdfunding. Quick updates, great item, impressive contents.
A. F., Kickstarter backer
I have already gone through the book 3 times in mass desperation to pick up any additional piece of information I might have blink skipped!
J. I., Kickstarter backer
[…] looking at those pictures and reading the excellent texts really made me eager to resurrect my pristine VIC setup, and fire it up again – sell everything non-VIC and spend a fortune in restoring my collection.
Denial (The VIC 20 forum) user
I'm very pleased with the quality of the book: the paper is quite heavy and the prints came out very nicely, and the cover is also rock solid and well bounded. It's definitely amongs the best illustrated books that I own, a pleasure to touch and to browse.
Denial user
Mine arrived and I love it. I have dozens of classic computing and gaming books and this is definitely one of the most impressive.
Denial user